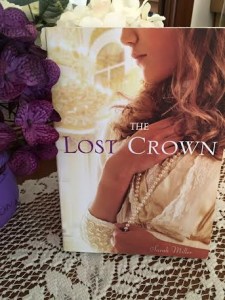 The Lost Crown is a young adult historical fiction novel following the royal Russian family in the years following up to the Russian Revolution and the years they were forced into hiding. Told from the POV of the four grand duchesses Olga, Tatiana, Maria, and Anastasia, we get a look into how their privileged life is.
I'm a huge history buff, and the Russian Revolution was always one of my favorite lessons, probably because I was so in love with the Fox cartoon as a kid. It was a real life mystery, the disappearance of one of the Romanov sisters, and it is still one of those things that I find so fascinating.
In the author's note, Sarah Miller explains who she gathered as much information as she could from letters and other documents from the Romanovs or that were associated with the family in order to piece together a true story of the four sisters.
Juggling the story from four different viewpoints sounds dizzying as it is, but Sarah Miller managed to execute it perfectly. There was never a moment for me where I couldn't tell who was speaking and what they were feeling in that moment.
Sarah Miller did a fantastic job at capturing the lavish lives of the girls and the confusion and panic they felt as they were forced away from everything they ever knew into the small place where they were to spend their last days. If you are a history buff, or simply just a fan of the Fox cartoon, definitely pick this up. You won't regret it 🙂