Hello everyone!
I'm here with another Christmas book recommendation: Let It Snow!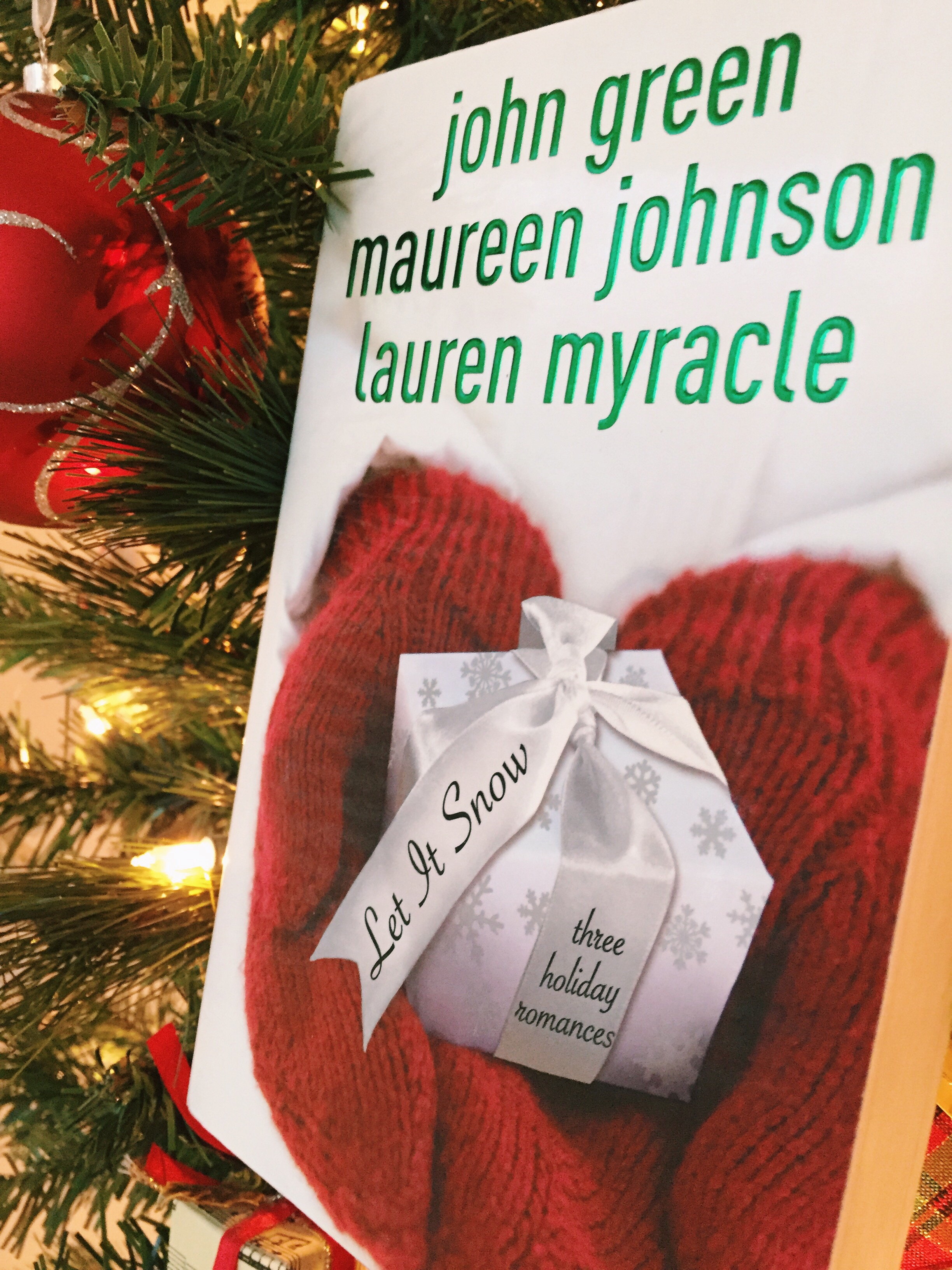 This is a collection of short stories written by YA authors Maureen Johnson, John Green, and Lauren Myracle that are set in a small town in Virginia during a massive snowstorm.
I first discovered this in 2009. I was at Borders (back when Borders was still a thing) with my mom and I was browsing in the Teen/YA section. This looked really cute and fluffy, which some might not like, but I actually enjoy that.
I had not read anything by any of these authors before. Heck, I didn't even know who John Green was back then! But I enjoyed each of the stories immensely.
I think my favorite is the first story by Maureen Johnson. "The Jubilee Express" is about a girl named Jubilee who is on a train to Florida to see her grandparents after her parents are arrested during a riot at a store that sells collectible toy villages. She's annoyed because she is supposed to be at her boyfriend's house with his family where they would be celebrating their one year anniversary. She gets caught in a snowstorm and winds up hanging out with a guy named Stuart and his family for Christmas Eve and Christmas Day. This can't get any fluffier, but it is easily the best book in the story (my opinion of course). I didn't really like Jubilee's boyfriend. He reminds me a lot of Amanda Seyfried's boyfriend in Letters to Juliet (which is an adorable movie that you should watch if you haven't). This was the perfect story to start off the collection, and I felt it established the town in the stories as well as the tone of the book vey nicely.
My second favorite was John Green's story "A Cheertastic Christmas Miracle." This story is about a group of friends trying to get to the local Waffle House where there is a cheerleading team who they think they'll have a shot with. I think it's a great introductory piece of his that can show his humor where some of his novels might not (since we all know he has the ability to wrench our hearts out and toss them across the room). Is it a little cheesy and ridiculous at times? Yes. But it's definitely worth reading.
I like some parts of Lauren Myracle's story "The Patron Saint of Pigs," but the main character, Addie, could be a little irritating at times. She made everything about her and that's supposed to be something she fixes by the end of her story. I thought she made a bit of a headway, but the TV in her head was still tuned to The Addie Show. It wasn't bad, but it wasn't the strongest closer to the book.
Like I said before, it's a light and fluffy read, which some people might not like, but if you think it's up your alley, then definitely check it!
Thanks for reading!