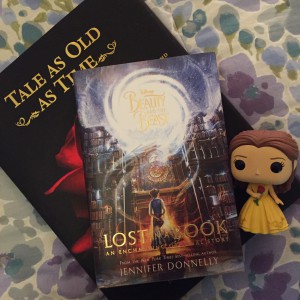 Lost in a Book by Jennifer Donnelly is a new Young Adult novel that ties into the world of the new live-action Disney movie, Beauty and the Beast. The story follows Belle after she has already switched places with her father and started to become friendly with the Beast. One day while cleaning and exploring the Beast's enormous library Belle stumbles upon a magic book called Nevermore that literally pulls her into the story. There she is presented with everything her heart has ever desired: adventure and interesting new people, and she must decide if she should keep her promise to the Beast or stay in this beautiful world that seems to be created just for her.
This is already one of my favorite books of the year. The cover is beautiful, the characters matched the personalities of their on-screen counterparts, and the overall worlds of both Belle's reality and the world within Nevermore were intriguing. This was one of those books where part of me wanted to fly through the story in an afternoon, while another part wanted to take it slowly so I could live in this story for as long as I could.
I really enjoyed the expansion on Belle and Beast's relationship. In both the animated movie and the new live-action film we see them become friends almost automatically after the battle with the wolves and the Beast giving Belle the library. While this does happen in the book, we are given more insight into what is going on in both their minds, showing that, although he saved her and gave her a nice gift, Belle is still a little hesitant to truly like Beast, and that the Beast is trying not to lose hope in breaking the curse.
There are a few scenes where the Beast is allowed to show his gentle side. He has a meaningful conversation with Lumiere and plays with Chip in the library. I sort of wish more of that had been incorporated into the movie as well, but I'm glad to have it here.
The world of the Nevermore book itself is quite amazing. I think most book lovers out there would jump at the chance to actually be teleported into their favorite story. As the story progressed Nevermore started to remind me of Coraline by Neil Gaiman. Some of the characters, particularly the Duchess, reminded me of the Other Mother and we are slowly shown how a picturesque world can have its own set of dangers.
I give this a 4.5 out 5 stars. If you are a fan of Beauty and the Beast, Disney, or the idea of books that can teleport you to new and magical places, I highly recommend you pick up a copy of Lost in a Book.
Thanks for reading!