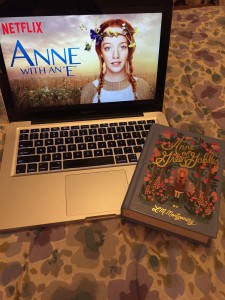 Hey there, Literature Lovers! I recently watched the new Anne with an E series on Netflix and it reawakened my love for Anne of Green Gables! I first read Anne the summer before sixth grade for summer reading and really enjoyed it. I ended up continuing the series up until Anne of the Island. I don't know if I didn't realize there were more books or if I just forgot to look for them at the bookstore, but I didn't continue the rest of the series after book three. Now I am wanting to finish it out and read other L.M.Montgomery works as well.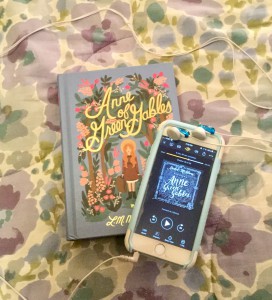 I just finished rereading Anne of Green Gables and loved it. I actually rotated between the physical book (this gorgeous Puffin in Bloom with illustrations by Anna Bond) and the audiobook read by Rachel McAdams. Avonlea is such a dreamy place to think of. I was a big Little House fan when I was younger so while reading/listening I kept switching the scenery between the Avonlea from the AWAE series and the town from Little House.
If you are unfamiliar with this classic, we follow Anne Shirley, an orphan girl who is brought to Prince Edward Island to assist the elderly Cuthburt siblings, Matthew and Marilla. Her arrival turns out to have been a mistake, as they had wanted to adopt a boy to help Matthew with the farm work. They (especially Matthew) take a shine to Anne, who is very talkative and imaginative, and decide to adopt her. The rest of the story follows Anne as she goes to school for the first time, becomes bosom friends with a kindred spirit name Diana Berry, and all the misadventures her imagination and fiery temper get her into.
This is easily one of my favorite classic books and I am really looking forward to reading the rest of this series!
Have you read any of the Anne books or seen any of the adaptations? Let me know in the comments below!
Thanks for reading!