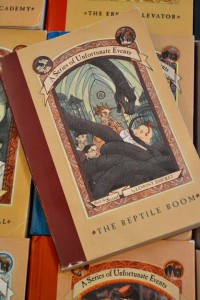 The Reptile Room is the second book in Lemony Snicket's A Series of Unfortunate Events, a thirteen-book series documenting the lives of the Baudelaire orphans. After living with their evil relative Count Olaf the children are sent to live with Dr. Montgomery Montgomery (whom they call Uncle Monty), an energetic herpetologist who is a ray of sunshine in the childrens' gloomy lives.
This was, and still is, one of my favorite books in the series. After the terrifying experience of living in the villainous Count Olaf's house, I was relieved that Violet, Klaus and Sunny were able to find an adult who seemed to respect them and wanted what was best for them. Uncle Monty embraced the skills all three children had and was encouraging them to expand these abilities within his Reptile Room. He provided them with a loving and comfortable home and seemed willing to keep them safe from harm. I wish that he could have featured more in later books, but the Baudelaires rarely have anything pleasant like that happen to them.
The Reptile Room features the first appearance of Count Olaf in disguise. Olaf can be a sinister character, but he definitely stepped it up in this book, always being around the children and wielding a sharp knife which he threatens to use on an infant. Stephano in the movie was played up as a more silly character so I'm interested to see how he is presented in this new television show.
My favorite thing about this book was the reptiles. The Incredibly Deadly Viper and all the other creatures were so interesting to learn about. I'm not normally someone who likes snakes, but after reading this I might look into more books featuring or about herpetology.
As I said before, this one of my favorite books in the series and I am looking forward to watching this episode in the new Netflix series. I highly recommend you check this one out if you haven't already.
What is your favorite book from A Series of Unfortunate Events? Are you going to check out the show? Let me know in the comments below!
Thanks for reading!