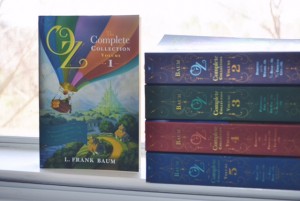 I've been in a very Wizard of Oz mood as of recently. I think it might have a little to do with the fact that the new Dorothy Must Die novel is coming out later this month. So I've decided to head down the Yellow Brick Road with the one that started it all, The Wonderful Wizard of Oz by L. Frank Baum.
As you can see in the above photo, I have the completed works, which includes the fourteen original Oz books by L. Frank Baum, as well as one story by Ruth Plumly Thompson entitled The Royal Book of Oz.
Since my Spring Break will be this month, I really want to try and read through all of the Oz stories, not just the first one. I did read another one of the stories (I believe it was Ozma of Oz_ back in the sixth grade, but I don't remember too much about it.
I also plan on re-watching the movie and the 2007 Sci-Fi mini series, Tin Man, which stars Zooey Deschanel and Alan Cumming, which I absolutely love.
And of course, I plan to read all the existing books the Dorothy Must Die series leading up to The Wicked Will Rise, including Dorothy Must Die and the three prequel novellas: No Place Like Oz, The Witch Must Burn and The Wizard Returns.
I'm ready to slip on my Ruby/Silver slippers and travel to the Emerald City!