Hey there Literature Lovers! Today I'm here with a review of the graphic novel Watchmen.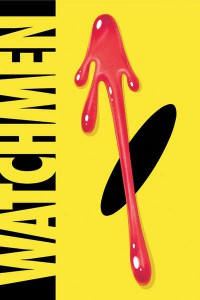 Watchmen was originally published from 1986 to 1987 by DC Comics. The story was written by Alan Moore with artwork by Dave Gibbons. The twelve-chapter story is set in an alternative version of history that mirrors what really happened in the early 1980s with the inclusion of superheroes and how they would have had a hand in events such as the Cold War and JFK's assassination.
It begins in 1985 with the death of The Comedian, a former member of the crime-fighting group known as the Minutemen. Rorschach, another member of the team, begins to investigate the murder, believing there is a "mask killer" on the loose and tries to band together his former colleagues, including Silk Spectre, Dr. Manhattan, Ozymandias, and Nite Owl. None of them believe his theory that someone trying to kill the now retired vigilantes, mostly because Rorschach has always been a bit of a psychopath and they don't want to be a part of this potential delusion. However, as more time passes and new threats arise (someone shooting at Ozymandias and Dr. Manhattan being forced into exile), Nite Owl and Silk Spectre decide that Rorschach must be on to something and agree to help him find out who is behind these attacks.
Overall, I did enjoy this story. Normally I don't go for dark, gritty storylines, but Watchmen introduced me to interesting characters that kept me invested. The ending was a little strange to me, but it's a superhero comic, things are going to be strange and silly, even in a darker storyline. I'm looking forward to giving the movie a shot soon.
Let me know in the comments below if you have read Watchmen, and what other dark comics and graphic novels you would recommend.
Thank you for reading!