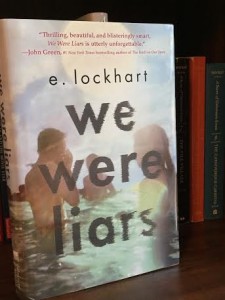 I have to say that this is one of those books you have to go into not really knowing anything about the book. However, I know some people don't like that so I will include a brief premise of the story below so you can get a good idea of what to expect.
We Were Liars is a contemporary young adult novel by E. Lockhart that follows Cadence, the eldest granddaughter of the highly distinguished Sinclair family. Every summer Cadence and her cousins, who refer to themselves as "Liars," spend vacation on their family's private island, swimming and goofing around. But this summer is different. The aunts are crying, and the Liars seem to be avoiding Cady since her accident two summers before. Cadence knows that everyone is keeping a secret from her, and she is determined to find out what happened the night of her accident.
The premise of this book sounded pretty interesting and it was getting a lot of hype prior to its release so I was eager to pick this one up. Sadly, I was a little disappointed with the actual book. I found myself getting easily distracted while reading this, and that's never a good sign with any story. I've read the Ruby Oliver quartet by E. Lockhart as well, and while wasn't my absolute favorite series, I still enjoyed it and found myself interested in the plot. We Were Liars didn't hold that same interest. The characters felt underdeveloped, and the story sometimes felt a little repetitive, though it did begin to pick up towards the middle.
Really, the biggest problem for me was the title. It's catchy when you first glance at it, but I never understood why the older Sinclair grandchildren referred to themselves as Liars in the first place. I didn't feel like that was explained very clearly.
I do want to give this story another shot so I plan on picking it up in the future, but it's not one that I would immediately reach towards on a rainy day. I think that this is a book that other people might enjoy, especially if you like mysterious accidents and secrets and stuff like that.