Hey there Literature Lovers! Welcome back to the blog! Today I wanted to share with you my review of Afterlife with Archie.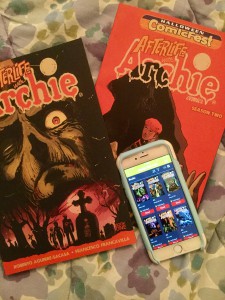 I just discovered this series last night and I am already hooked! Our local comic book store was giving away free Halloween issues and I selected Betty R.I.P., which appears to be issue 7 in the series.
Afterlife with Archie gives us a darker look at the usually peppy town of Riverdale. If you have read past Archie comics you know that Riverdale is sort of like Pleasantville. It's stuck in a 1950s limbo where everyone is sweet and charming, sharing milkshakes and burgers at Pop's Chocklit Shop or showing their school spirit at whatever high school sporting event is happening. I have always loved these comics and goofy hijinks the gang gets into, but it was refreshing to see this new take on such an iconic town.
Afterlife with Archie kicks off with Jughead's sheepdog, Hot Dog, being hit by a car. He is close to death when Jughead finds him and brings him to Sabrina Spellman, a.k.a. Sabrina the Teenage Witch, He begs Sabrina to help, but Hot Dog has already died and it is forbidden to use magic to revive someone who has already passed on. However Sabrina does this anyway. Hot Dog comes back to life and is not his usual self, acting untamed and erratic, at one point attacking Jughead, this starting the zombie apocalypse in Riverdale.
I'm normally not a fan of the horror genre, but I have been trying to branch out of my comfort zone. I'm so glad I gave this a shot. After reading the free comic, I immediately went on the Archie Comics app and purchased the other issues (they were all $0.99) and devoured them. I love the deep orange and red colors that dominate the artwork. It's a striking contrast to the usually bright and colorful Riverdale and adds a feeling of tension.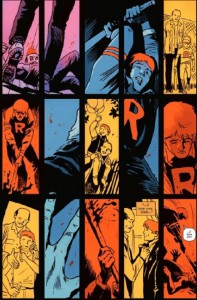 I cannot wait to read the next issues, and will possibly check out The Chilling Adventures of Sabrina as well. I would highly recommend this to anyone.
Rating: 5 out of 5 Stars.
Are you a horror fan, or maybe just an Archie fan? Have you read this comic? Share your thoughts in the comments below!
Thanks for reading!