Hey everyone! Sorry that this month's classic came a little later, but I was busy with finishing up summer classes so unfortunately reading had to be set to the side.
However I did manage to get a three week break so I now have more time to knock out my TBR pile, and sitting at the top was this beauty.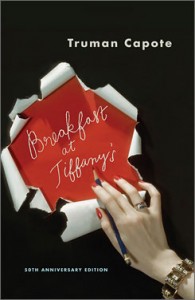 Breakfast at Tiffany's by Truman Capote is very similar to the film (although obviously the book came first). The 80-page short story is told from the POV of a man who used to live in the apartment above Holly Golightly's apartment, and of all the interactions the two had together. There were a few differences here and there in the story, like the ending, but it was every bit as magicial
Capote originally wrote this with Marilyn Monroe in mind, but it's really hard to picture her as Holly. The way she speaks, the way she acts, everything about Holly is so Audrey. Of course that could be my opinion because I saw the movie first, but I stand by it.
The 50th anniversary edition is currently out and includes three short stories by Capote: House of Flowers, A Diamond Guitar, and A Christmas Memory, which is a memoir of Capote's youth.
This was easily one of my top books of 2015, and I would highly recommend this to anyone, especially fans of the movie.
Happy reading!