Every Heart a Doorway is the first novel in the new Wayward Children series by fantasy author Seanan McGuire. The series explores what happens when children who have gone down rabbit holes or stumbled through magic wardrobes to fantastical worlds find themselves placed back in their old lives, and how they must adjust to the 'normal' world.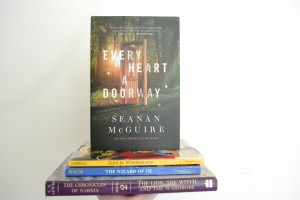 I will admit that I am not normally a fantasy reader unless it is a fairy tale retelling, mostly because some fantasy books are so thick and occasionally feel overly descriptive, or there are so many characters that I start to get overwhelmed. I appreciate that this is a shorter fantasy book with a small cast of interesting characters, and that there was a murder mystery weaved into the mix.
Our main character is Nancy, a girl who has been to the Land of the Dead and whose experience there has left her very serious. She is our guide into the wacky setting of Eleanor West's School for Wayward Children.
In contrast to Nancy's seriousness we are introduced to Jack and Jill, twins who were transported to a scientific world; Suki, Nancy's peppy and inquistive roommate who went to what I imagined as being a real life Candyland; and Kale, a bookish boy who lived in a society of all female fairies.
One aspect that I enjoyed about this books was that Nancy is asexual. The only other confirmed asexual character that I have ever read was Jughead Jones from the Archie comics, and he has only been canonically asexual in the newest run written by Chip Zdarsky. Unlike Jughead, who is usually pretty indifferent towards people, Nancy actually has an immediate crush on a fellow student. Asexuals always seem to be portrayed as being aromantic as well, so to see an ace character who also has romantic attraction is great representation.
I kept picturing the woman who runs the school, Eleanor West, as a cross between Mrs. Potts and Ms. Frizzle from the Magic School Bus. She was quirky, but had a good grasp on each of these realms the students went to and how to properly help them come to terms with the fact that they might not be able to return to those places.
Overall I found this to be a very enjoyable story! It was a unique idea to look at how all these different fantastical worlds would change these young kids and their outlook on life, and I'm looking forward to reading more about the Wayward Children!
Rating: 3.5 out of 5 Stars.
Have you read this book? Do you have a favorite fantasy series? Please share in the comments below!
Thanks for reading!