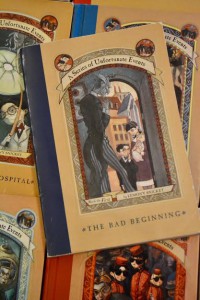 The Bad Beginning is the first book in Lemony Snicket's A Series of Unfortunate Events. This book introduces us to the Baudelaire orphans, Violet, Klaus and Sunny, as they are placed in the care of the cruel and calculating Count Olaf following the demise of their parents. Using their intelligence and unique talents the orphans must find a way to keep their inheritance out of the hands of their evil guardian.
I was introduced to this series by my third grade teacher, who used to read the books to our class. I have read them multiple times throughout the years and still find them entertaining as an adult. I love all the Baudelaires. I dressed up as Violet one year for Halloween, using costume inspiration from the movie that was released in 2004. I used to try and memorize everything I read so I could be like Klaus, who was able to pull out useful facts in even the most stressful of situations. I didn't really try to imitate Sunny since she was a baby who liked to bite things, but I was impressed with the level of understanding an infant, even a fictional one, seemed to have about these terrible situations she was in.
I had not read this book since high school, so for about five or six years, but since the Netflix show was coming out, I thought it would only right to give the first four books a reread. Despite the large gap of time, this is probably the book I remember most clearly. I think it's because this was one of the first audiobooks I ever bought. I swear I listened to it so many times I probably could have recited the whole book. Even after all this time, Olaf and his acting troupe terrify me (especially the Hook-Handed Man), I find Mr. Poe frustratingly incompetent, and I still desperately wish that I could give the poor orphans a hug and help them get out of that terrible situation.
One of my favorite scenes in this story (maybe even in the entire series) is Violet making the grappling hook to save Sunny from the top of Count Olaf's tower. Violet had the incredible ability to make something functional out of limited resources. She only needed three things to make her grappling hook and managed to make it work until she was caught by the Hook-Handed Man.
This is simply one of my favorite series of all time. I highly recommend reading these books, and I hope that the new Netflix series will inspire a new group of people to go out and grab themselves a copy of these books.
What are your thoughts on this series? Did you read them as a kid? And what do you think of the new Netflix series? Leave a comment below!
Thanks for reading!